Reception
Parents' Guide to the Foundation Stage - Click here
Summer 2
'Animals'
This term we have been focussing on animals. We made our own safari role-play areas by using our creativity to make different props and animals. Green Class worked together to make an amazing crocodile and Red Class made theirs into a jeep! We also looked at African art and made our very own masks inspired by African patterns.
We also spent a lot of time making our own non-fiction books about animals. Each group took on an animal and learnt lots of facts. We all learnt what the words habitat and diet mean! Our books have also included a contents page and lots of labels!
We went on our trip to Cotswold Wildlife Park and got the opportunity to meet lots of different animals. The children were so well behaved and the weather was nice a sunny. We met so many animals and learnt so many facts! When we got back from the trip we made our very own 3D map. We took into consideration the different environments that animals live in so that we could make sure that the animals would be comfortable in the areas.
We had a science day where we spent the day investigating different challenges and working out the best way to go about them. We made predictions, tested our theories and explored whether or not we could change the outcome of some of them. We also looked for ways to make objects that we had discovered sink or float. We explored magnets, and used the power of magnetism to make our superheroes fly, we created shelters for our animals and discovered which materials were the most waterproof. We also saved some animals from being trapped in ice! The children worked out that the best way to free them was to put them in the sun or under the tap. We worked out that the best thing to make superheroes fly with was a paper clip! We also spent lots of time exploring the classroom and working out what items were and were not magnetic!
We also enjoyed sports day this term and were able to show off many of the skills we have been learning in P.E.
SUMMER 1
'Growing: Full of Beans'
This term we have learning about how we have grown and changed - how plants grow and change too.
We have talked about what a plant needs to grow and experimented to see where the best place to plant 'beans' would be.
We tried putting them in the shed without any light or water. These beans did not grow!
We tried planting them without any soil and these beans did not grow!
The beans that grew the best were the ones in the classroom window.
If you ask your children they should be able to tell you what a plant needs to grow!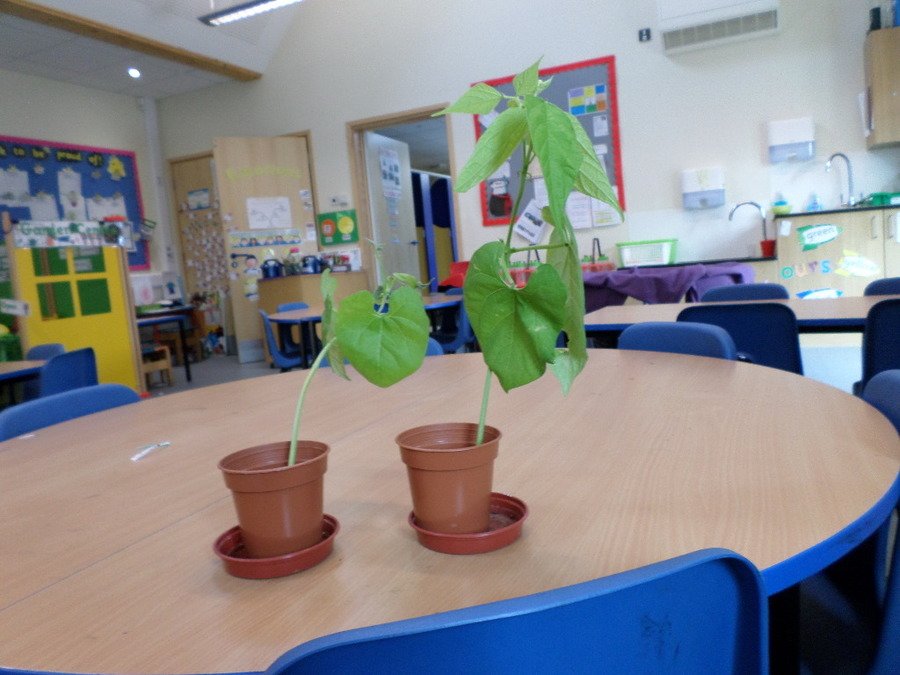 We have been focusing on lots of storybooks including, 'Jasper's beanstalk', 'Once there were Giants', 'The Tiny Seed' and 'Jack and the Beanstalk'.
The children made up their own actions to 'Jack and the Beanstalk' and we added pictures to the text to help us remember them. They should be able to tell you the story if you ask them to.
We also created our own scenes for 'Jack and the Beanstalk' and made a 'living story book' using lots of junk! When we had all created our scenes and props, we went around our 'Giant book' and acted the story out using big voices and actions.
This term, we have been using our imagination to help us to 'Go Places'.
We have been reading different story books that have introduced us to different characters and settings.
We have been trying to develop our writing skills too -writing lists to help us buy shopping ingredients and sequencing instructions for 'How to make scones'.
We also read "Whatever Next" and acted the story out, sequenced pictures, wrote lists of what we need to pack if we were going to the moon - and even wrote our own instructions for how to get there!
We have been looking at the work of different artists - particularly 'Mondrian' - who used black lines and bright colours. We had a go at copying his work using black tape and paint, before having a go with coloured paper and snipping up shapes to fill in the gaps.
We had great fun exploring different types of media and materials when we were 'Going to Space'.
We made aliens using playdough....
...created rockets that were sun catchers....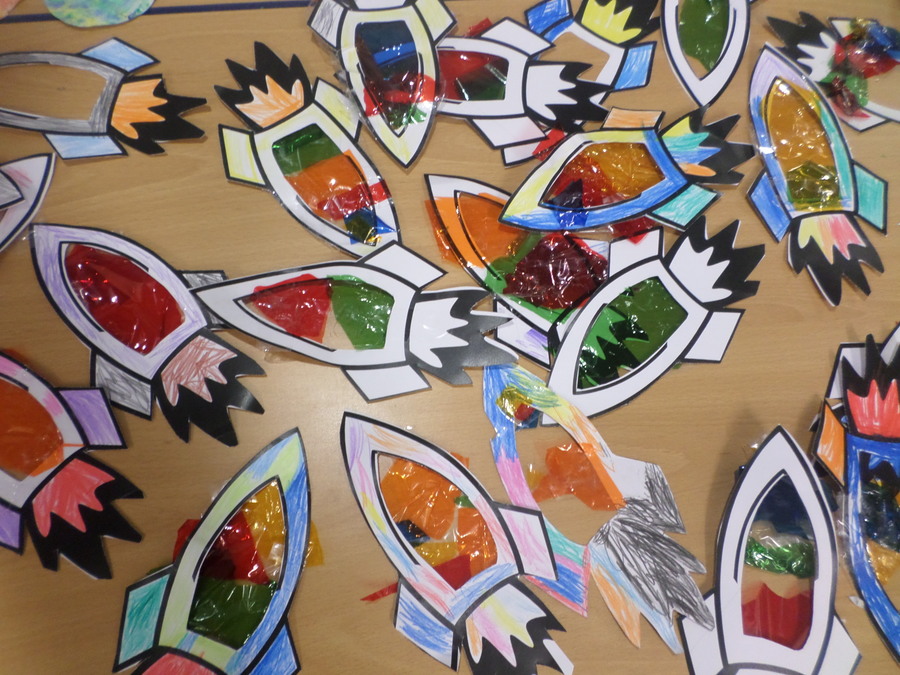 ...and decorated our own planets by marbling with shaving foam!